Description
ColMi K88H Bluetooth Smartwatch Heart Rate Monitor Remote Camera Push Messages For Android ISO MTK2502C Smart Watch
Highlights: ***MTK2502C, Compatiable with both IOS & Andriod Phone.
***IP54 life Waterproof: Rainproof, wash hand without taking down your watch.
***2.5D curved OGS screen, IPS with full anglel view.
***Heart rate monitor, Real-time stepscon, Sleep monitor, Sedentary remind, Bluetooth music, Remote camera, Sync messages
***More: Call records, phone book, information, looking for a mobile phone, time, a pedometer, Heart rate monitor. About Language: Language: ( Default: A version, if you want to other versions, please leave a message in your order.
A Version: English, French, German, Spanish, Portuguese, Italian, Dutch, Russian, Polish, Turkish.
B Version: English, Greek, Romanian, Japanese, Korean. What's in the box? 1 PCS Smart Watch. 1 PCS Manual. 1 PCS USB Pogo pin Cable. 1 PCS Retail Package. Picture: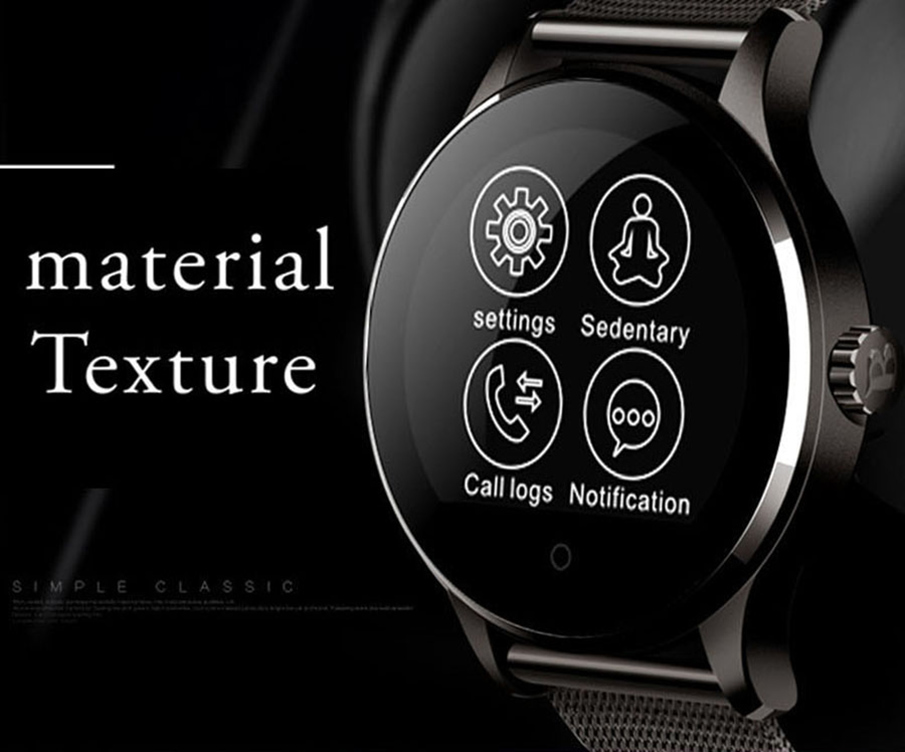 Real shot pictures:

Product Specifications: 0. Heart rate Monitor: Detect whether aerobic exercise.
1. Notification from phone: Msm, Gmail, Email, MSM, MAIL,Twitter,yahoo.Weather intime,Miss call,Yahoo.
2. Remote Music: Open your phone music by watch.
3. Alarm Clock: Call you wake up every day.
4. Call history: Synchronous phone records.
5. Pedometer: Fitness housekeeper.
6. Various dial shows: Change the display to change the mood.
7. Time: when you want know the time, raise your hand.
8. Looking my phone: press an Icon to find your losing phone.
9. Phone book: find the Phone number who you want to Dial.
10. clock display: Easy to see the time, don't go over mobile phone.
11. Sedentary remind: Sedentary office life, remind your take a walk.
12. Detection of Sleeping: know more about your sleeping.
13. Remote Camera: Travel, no one to help you take photos and set, watch do it for you.
14. calendar: what day today?
15. Notification of MSM, MAIL,Twitter,yahoo. Weather in time, Miss call: You will know what your friend said without take the phone.
16. calculator: you know how to use .
17. recorder: record what you want to save.
18. change the page by shaking hand: if you don't want to do,i change page for you .
19. lingt the screen by raise hand: i will light up when you want know the time .
Feedback:
*** Our success depends on your support, please leave us a five star feedback if you are satisfied with our products.
*** If you have any problem, please contact us first time, we will solve it in time.
*** We will answer emails within 24 hours, you can also leave a message in the Message Center.
*** Thank you for your supports. Happy shopping!